The project 'Connected Lithuania: towards an effective, safe, and responsible digital community in Lithuania' kicked off in 2018 with one main goal: to help Lithuanian citizens use the internet, and information and communication technologies (ICTs) in a safe, responsible, and informed way. Since then, the project has exceeded expectations, achieving remarkable results: more than 500 people from all over Lithuania took part in activities ran by the project, and more than 100 ICT specialists were trained.
Aiming for the sky: number of students way above expectations
Communication nowadays is instant, and constantly evolving smart technologies are a daily reality. In Lithuania, some aspects are flourishing: like a well-developed ICT infrastructure, or the availability of high-speed internet on almost every corner of Lithuania. In the 2020 Digital Economy and Society Index (DESI), the annual index of the European Commission that tracks EU Member States' progress against key indicators including skills, Lithuania is not far away from other countries in Europe when it comes to the take-up rate of internet services.
While the share of population that has never used the internet has decreased, the ratio still remains above the EU average (15% against 9%). We also need to note that people living in rural areas, those from low socio-economic backgrounds, early school leavers, the elderly, people with disabilities, the unemployed and other marginalised groups are more likely to be digitally excluded. More policy action is needed to ensure nobody is left behind the digital transition and can make the most of the opportunities it brings.
Over the 3 years the project has ran for, 'Connected Lithuania' made a sound mark on bridging the digital divide within Lithuania, and has helped to encourage the increased use of smart technologies for all, from helping people get started with using the internet, or supporting them to improve existing skills. Throughout the project's duration, participants were given the opportunity to meet professionals from a variety of disciplines. They also took part in events in public libraries, creative workshops, online events, and others. Free training programmes meant each participant was given the chance to keep learning, and develop future-proof skills with autonomy.
"The project has been ambitious, so it is fun that it has achieved and even surpassed [its targets], with more than 104 trainees taking part in the project, 691 local communities have been involved and more than 500 thousand people were actively involved throughout the project period," – said Rita Šukytė, director of the Lithuanian association "Window to future" ("Langas į ateitį")
The need to improve digital skills for all is growing
Given the amount of effort, and the number of institutions and organisations involved in the project's implementation, the success of 'Connected Lithuania' is not surprising. Lithuania marks a significant increase in citizens' ability to use computers and the internet, and also a steady rise in motivation and willingness to upgrade existing skills or learn new ones. In 2020, as many as 77.5% of Lithuanians felt their digital skills are in need of improvement, compared to 64.5% in 2019, according to DESI 2022.
"I am delighted that the perception of the Lithuanian population is changing. It is understood that digital technology is an integral part of modern lifestyles and not only improves quality of life, significantly influences people's emotional condition, increases self-confidence, but also reduces social exclusion," Rita Šukytė notes.
A representative study initiated by the project showed that slightly more than four fifths of the participants in the project indicated that thanks to the project activities their confidence and ability to share information safely online increased (84.7%). Another 81.6% of respondents stated their involvement in the project made them more critical towards the information they receive on a daily basis, and 80.7% of respondents said they considered themselves better equipped to detect fake and malignant websites.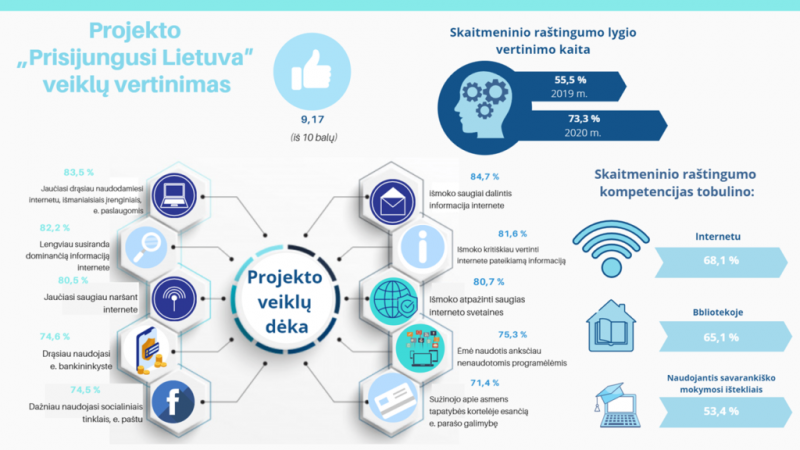 Enabling knowledge and expertise in digital
But results are not all: motivation and willingness to learn are equally important. Participants in the 'Connected Lithuania' project and the information survey run, stated they were motivated to learn more about different programmes for creative purposes and products, to deepen their knowledge or learn new skills in working with applications, and improve their expertise in the field of e-services and e-commerce. Others were more interested in smart technologies, and tools for remote and teleworking, or social media networks and analysis.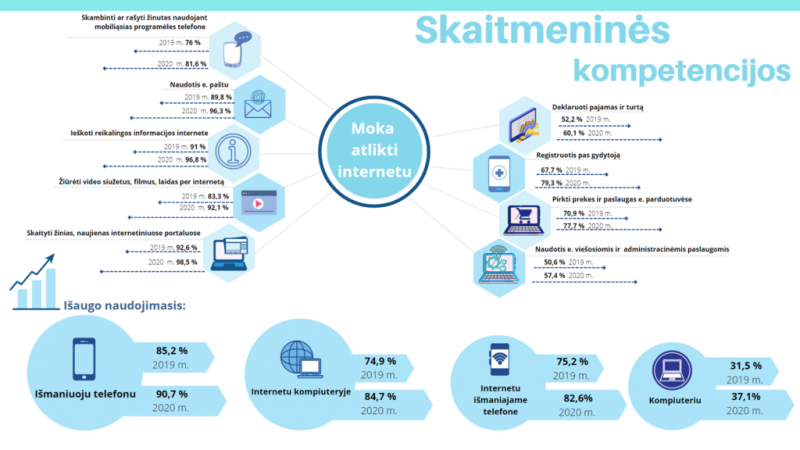 Looking at the results from the surveys carried out in 2019 and 2020 in the context of the 'Connected Lithuania' project, a significant increase in the ability to use the Internet on a computer and smartphone, as well as improved skills to use smart devices themselves, are observed among the project participants. Activities across online portals (reading news, watching videos, films, working with web programmes, searching for information online, using e-mail or online messaging) increased in frequency compared to 2019. More people also stated they now confidently used public and private online services, for example government portals to file one's taxes, register an appointment with one's GP, shopping online, or using other administrative e-services.
Fostering digital skills throughout one's life
Lifelong learning is key when it comes to digital skills and overall knowledge of the ever-changing world we live in. As Rita mentions,
"The results and activities of the last year's project show that improving digital skills in Lithuania is becoming increasingly relevant and the knowledge acquired helps to make life easier. While the growing activity and willingness of the population to study current and new subjects is encouraging, it is still insufficient and the digital divide still affects a significant proportion of the Lithuanian population. Therefore, the project organisers encourage local communities to not hold back, but rather continue the work they have started with this project in teaching and improving the digital skills of the local population"
The organisers of the "Linked Lithuania" project hope that the digital leaders and e-speakers brought together and trained by the project will continue to work with public libraries from all over Lithuania, keeping the spirit, and outputs of the project alive. All citizens are welcome to consult the variety of resources on the 'Connected Lithuania' online portal to develop their existing skills further, and gain new ones.
Image credit: Neil